Path of Exile's Latest Expansion: Delve Launches for PC
Path of Exile's latest expansion, Delve, officially launched today at 1PM PST on the PC with the Xbox One launch set to happen sometime next week. Delve introduces the game's first infinite dungeon called the Azurite Mine which features randomized and progressively more difficult floors. The Azurite Mine will likely be the first of many infinite dungeons coming to the game which boast infinite replayability. Other new additions to the game include 7 new divination cards, 18 new unique items, and several new and revamped skill gems.
"Delve is a unique expansion for Path of Exile because it takes player progression far beyond anything we had previously experimented with" said Chris Wilson, co-founder of Grinding Gear Games. "We are really excited to see how players react to some of the surprises that we have buried deep underground in Delve."
Path of Exile is a remarkably popular isometric action RPG similar to games like Diablo 3. Since its launch in 2013, the game's playerbase has steadily been increasing. While the game has only been averaging 13,000 users online at any given time on Steam, the numbers have jumped up significantly with the launch of Delve. Check out the playerbase numbers below: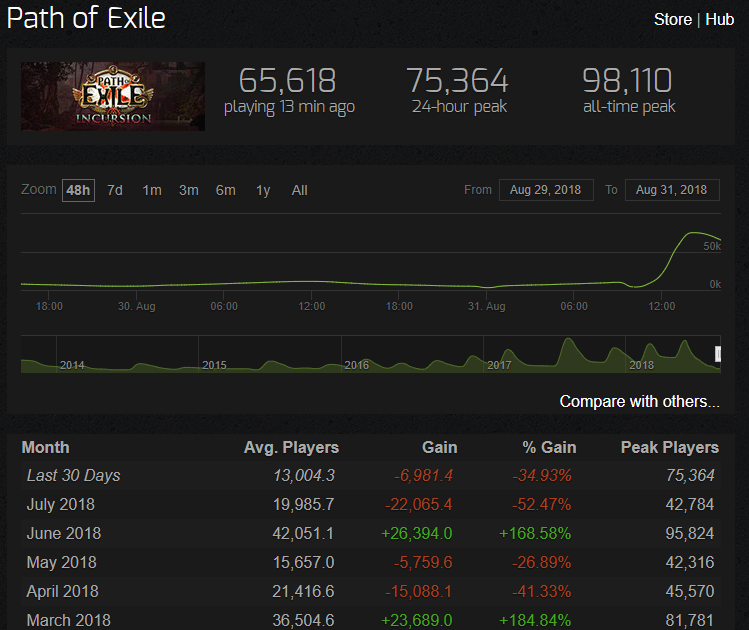 Further reading: Path of Exile: Delve Splash Page