How To Install and Play Moonlight Blade
Updated As Of January 15, 2017
Tencent Game's wuxia MMORPG Moonlight Blade is coming Westward, someday. If you can't wait you can play on the Chinese servers, but installing the non-English game can be a daunting task. In a previous guide I explained how to make a QQ account, a requirement for all China-based games. Now that you should, hopefully, have your QQ account number saved you can proceed to download and play the martial arts MMORPG.
Edit: January 15, 2018:
Tencent has re-designed their game launcher and rebranded it as WeGame, so the guide below will be out of date. To install Moonlight Blade through the WeGame launcher, simply launch it, go to the second menu at the top (shown below):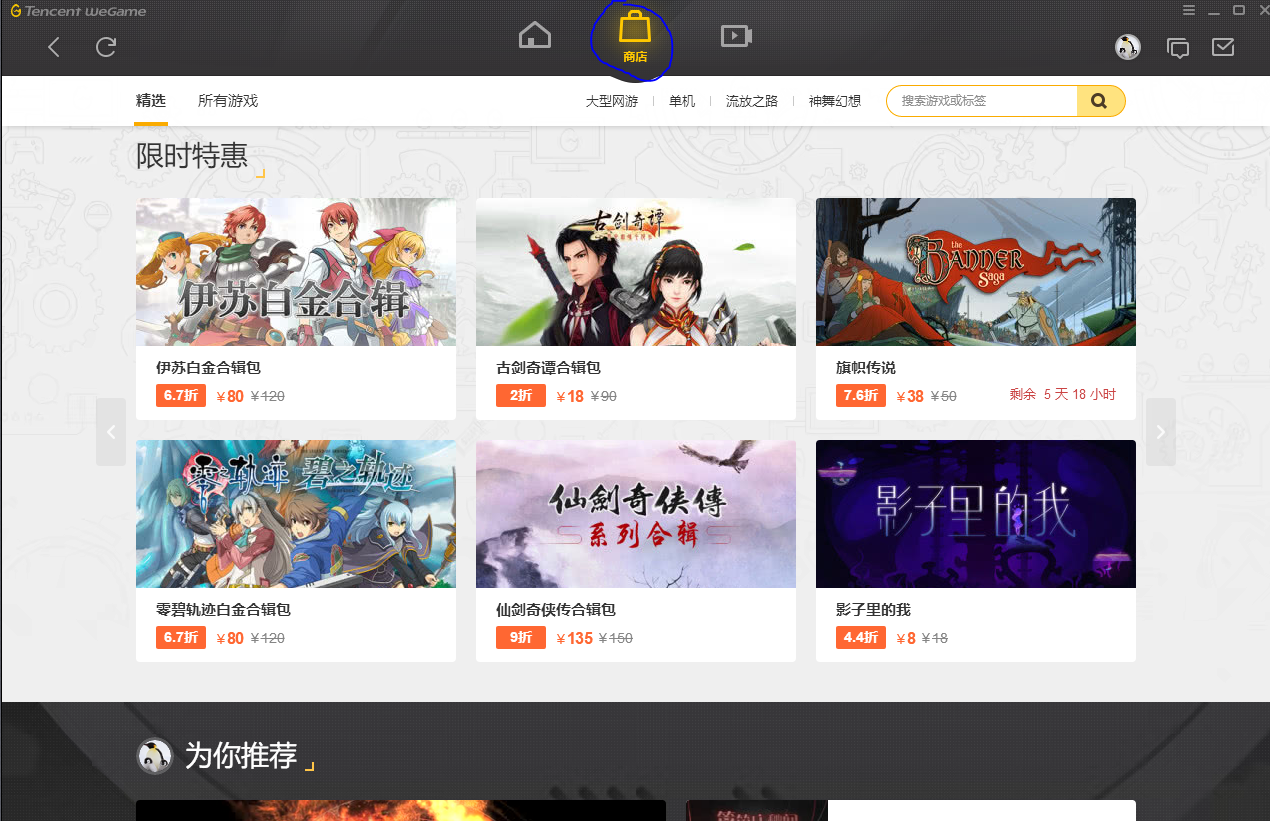 then on the search bar copy and paste this text and hit search: 天涯明月刀
Then select the one game that shows up (it'll be Moonlight Blade). Once one the game page just click on the big blue button shown below to install the game: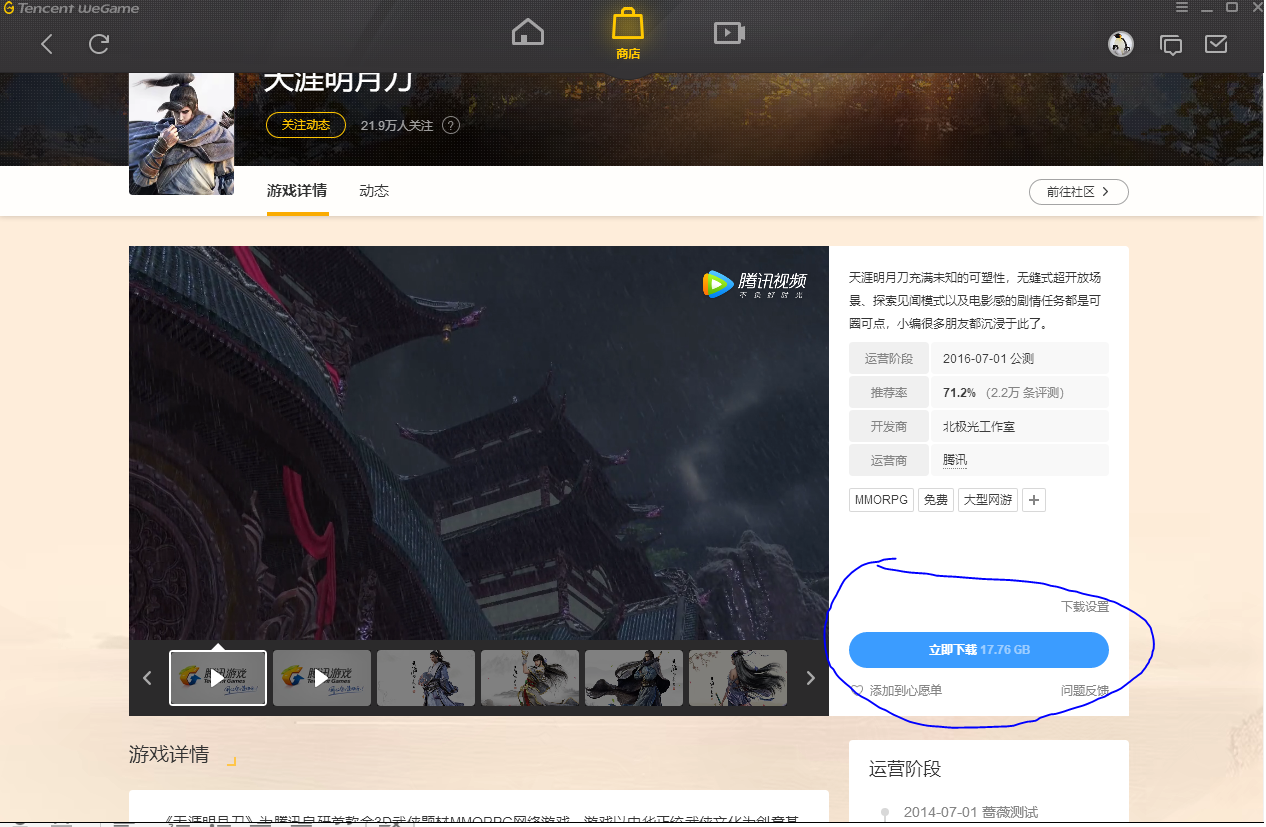 --
(the instructions below are outdated, but kept for archival purposes)
1. Proceed to download Moonlight Blade, but not directly. We're going to download TGP (stands for Tencent Game Platform). It's Tencent's version of Steam and makes installing the game easy. Just click the button with the down arrow and "TGP" to begin downloading. It will open a new page and ask you where you want to save the installer.
2. You should have an icon somewhere—I typically choose my desktop—that looks like this. Or, it will be in your downloads folder (C:/Users/[Your Username]/Download) if you haven't enabled "choose where to save" in your browser.
Double click the installer.
3. You can choose where to install the platform by clicking the gear in the bottom right corner, marked with the box. Then click the button to the right of the path to choose where you want to install it and click the OK button. Click the bottom right button to return to the installer. And press the fat blue icon in the middle to begin installing.
4. The install is pretty quick, and you'll see a few boxes pop up as TGP installs all its software. Once it's done you'll be prompted to log in. This is where you need to enter your QQ number so I hope you have it saved. Press the fat blue button to log in and you'll be prompted to solve a captcha to proceed.
5. You've made it to the TGP interface. So many icons. But we only need to worry about the sword on the middle-left, which takes us to the Moonlight Blade installation page.
6. Just press that big blue button in the bottom right to start the installation. You'll be prompted to choose a directory, for both the download and then the installation. It's a big file, make sure you have over 60 gigs of free space. Once you're set press the center button, and get ready to wait—browse MMOs.com in the meantime.
6.A Of course if you don't have the icon it's easy enough to add Moonlight Blade to TGP. Make sure you click the diamond-with-a-box-in-the-middle icon near the top-left of TGP as shown in the image above. Then select the "MMORPG" box in the middle of TGP.
6.B Now we can see a whole bunch of games, all of Tencent's offerings. Moonlight Blade should be in the fourth row from the top (barring any more games are added). You can use the screenshot above to find the right one. Click that image.
6.C You should be on the Moonlight Blade splash page. Just click the fat blue button on the right side of your screen to begin installing.
7. Back to business. ...Now you can take the time to teach your computer to read Chinese. Otherwise, when you enter the game it crashes. So we head to Control Panel and find Language, ordinarily located under Clock, Language, Region. Click "Add a Language" and from the list that's drawn up pick Chinese (simplified).
8. Underneath your language tab you should now see both English and Chinese (simplified).
9. But we're not done yet. Now we have to head to the Region tab. Clicking Region will pull up a window, but we're only interested in the tab that says Administrative. From the Administrative tab click "Change System Locale" and change it from English (United States) to Chinese (Simplified).
You will have to restart your computer after this step. But make sure you're not still installing when you do. And in case you're worried, changing the language to Chinese will not change your desktop icons and panels to Chinese (simplified).
10. You finished installing? Great, now you get to patch. Press that blue button again and go back to browsing MMOs.com.
11. Once you're done patching, press that blue button again and... Congratulations, you're ready to play Moonlight Blade.
A few things to note. The TGP installs some annoying, but evidently harmless, software: optimization shenanigans that you don't need. When you exit the game they'll continue to run but you can shut them off from your Task Manager: just turn off anything that's written in Chinese.